A grazing cheese & charcuterie platter is one of my favourite ways to celebrate a birthday or special occasion. Making meals at home is great, but when you are cooking for larger groups, it can be stressful. As a result, you spend more time in the kitchen and less time creating memories. The tips and tricks in this section show you how to put together quick and easy food platters, hard-to-resit canapes, starters & creative party drinks for any special occasion, you will get ideas for al fresco picnic baskets including homemade dips, chutneys, crackers, all in which can be prepared in advance so all you need to do on the day is turn up at the table and enjoy it all with your guests.
A Autumn Cheese Board 
All the flavours of Autumn
Ingredients
Pear
Clementine
Figs
Walnuts
Rosemary Crackers
Apples
Plums
Dried Apricots
Mini Gherkins
Pickled Onions
Mini Yellow Peppers
Olive paste
Olives
Blue Cheese
Raschera Italian cheese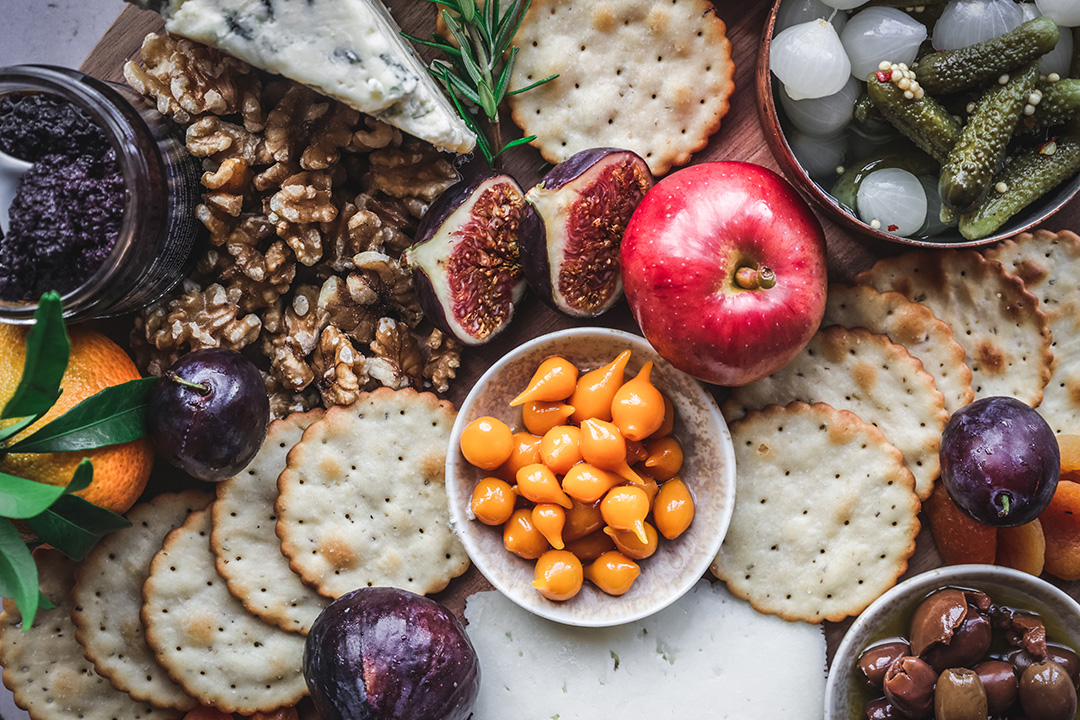 Peach, Mozzarella Pearl, Prosciutto di parma, Basil & Pesto
This no fuss Summer canapé is the perfect choice for alfresco evenings and summer Garden Parties
Peach Parma Ham Mozzarella Pesto Appertizers 
Ingredients
200g Mozarella Pearls
6-8 Slices Parma Ham
Pesto ( See Home made Pesto Recipe/ or purchase a nice pesto from a Deli)
5 Juicy Peaches or Nectarines
Cocktail Sticks
Method 
Wash and pat dry your Peaches
slice In half, remove the stone and then slice peaches into quarters.
Build your peach Appertizers by  adding the peach to the bottom of the cocktail stick
Build the Parma Ham, Mozzarella pearls on top of the peach and finish with a drop of pesto.
The Italian Grazing Platter 
This grazing board features a delicious basil pesto and is inspired by Italian antipasto.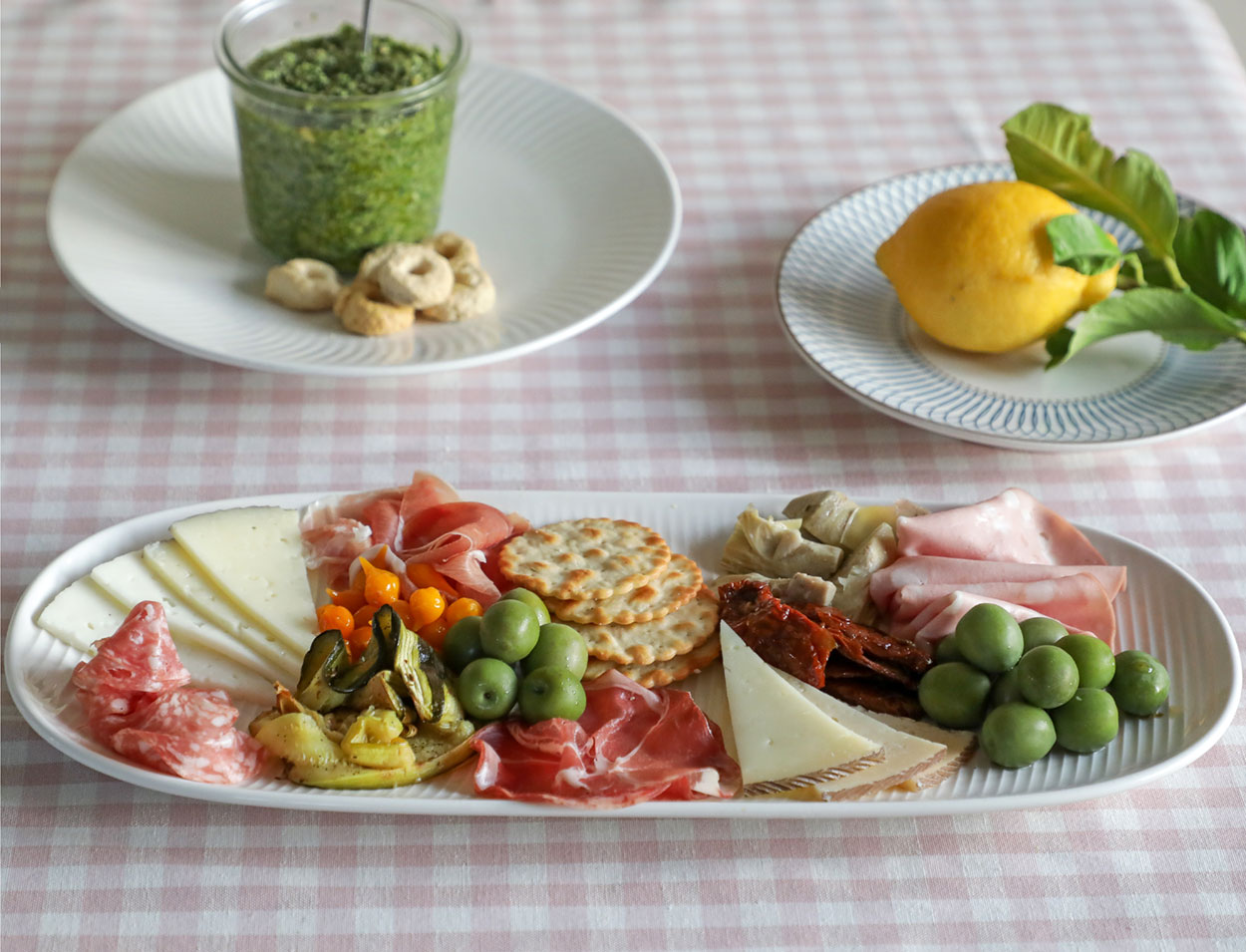 Quick Basil Pesto
Ingredients
1 big bunch of Basil leaves
50g parmesan or vegetarian alternative. + extra for the top
50g pine nuts + Extra for the top
1 lemon juice
150ml olive oil.
1/2 tsp salt
1 garlic clove
Method
Add all the  ingredients into a blender, blend until smooth.
Top with EVOO & sprinkle of pine nuts
White Tutti Fruity Sangria
Enjoy Moments In The Sun
With this quick White Tutti Fruity Sangria.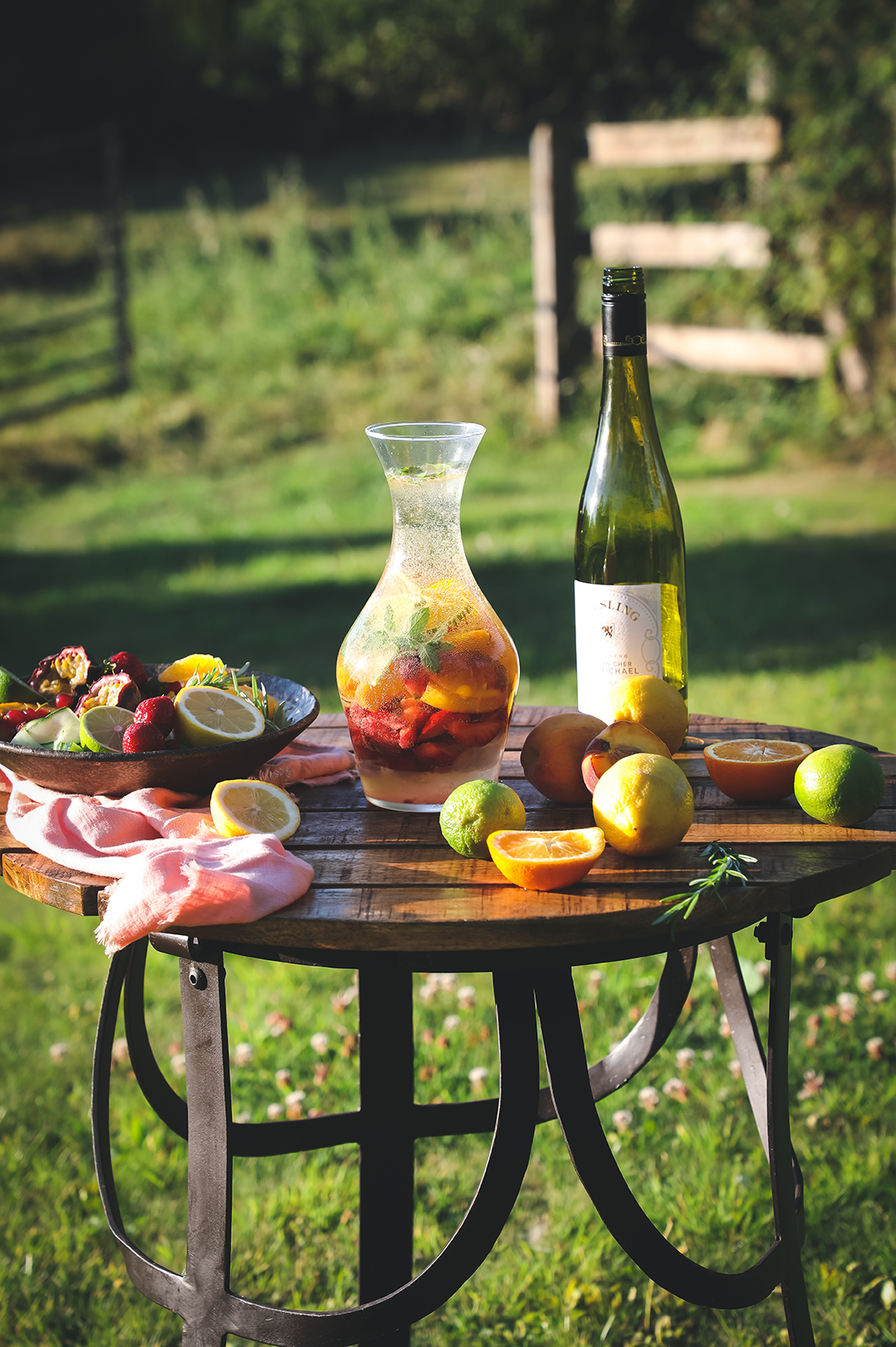 Ingredients
1 lime (juice)
1 Lemon (juice)
2 oranges (juice)
1 passionfruit
3 Nectarines
150g chopped strawberries
Handful mint
I love to use a bottle of Riesling white wine for this, but you could also use a more crisp  dry white wine too.
Method
Using a fruit Juicer squeeze the juice from the
lime, Lemon and orange
Cut open a Passion fruit strain the juice using a small sieve
Slice the nectarines into Quarters.
Hull the strawberries and cut into Quarters
Pour in all the juices and sliced fruits into a large jug.
Using a cocktail muddler or large spoon press the chopped mint leaves, and slices fruits into the juice.
Once all the juices have been combined add the Riesling white wine.
Give it a stir and serve on cold ice.