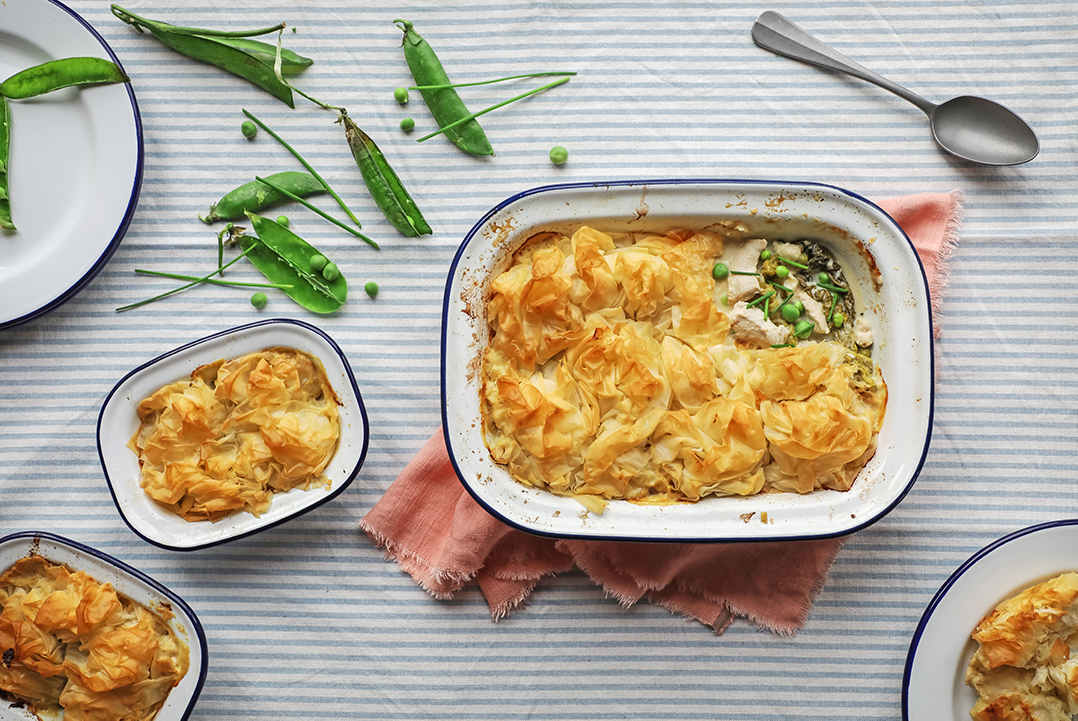 Salmon & Prawn Seafood Chowder, Rosemary Croutons 
Ingredients
30g butter
2 carrots, finely chopped
2 sticks celery, finely chopped
2 medium potatoes, peeled and cut into small chunks
1 tbsp plain flour
2 bay leaves
175ml dry white wine, plus an extra splash
500ml fish stock
150ml whole milk
1 tbsp Dijon Mustard
2 corn on the cobs, kernels slices off cob or (150g tinned corn) save a few corn kernels for the top.
200ml double cream
2 fillets (roughly 200g) sustainably sourced salmon
12 sustainably sourced raw king prawns
Small handful flat leaf parsley, leaves picked and chopped
lemons for squeezing
Rosemary croutons 
Ingredients
Handful of Rosemary
Salt and pepper
Crusty bread
Olive oil
Method 
Using a sharp paring knife, slice the corn of the cob, boil in salty hot water for a few minutes until cooked. Drain and set aside.
If using tinned corn, drain water and set aside.
In a non stick saucepan boil potatoes until soft, drain, set aside and allow to cool.
Melt the butter in our non stick saucepan (with lid) Add the carrots & celery and fry for 10 minutes until softened. Stir in the flour, bay leaves and wine, followed by the stock, milk and cream. Cover and simmer for 10-15 minutes until the vegetables are tender and the sauce thickens.
Add your cooled potatoes, the cooled and cooked corn, 1 tbsp dijon mustard and a few tbsp of the warm soup mix thats been simmering in the saucepan to a blender. Blend until really smooth ( no lumps) Pour the corn and potato mix into the rest of your soup in the sauce pan, stir with a wooden spoon until combined. Leave on a low simmer.
Meanwhile, chop some crusty bread into cubes. In a large bowl coat the bread in olive oil, Rosemary sprigs salt and pepper.  Lay onto a baking tray, bake at 180'c for 5 mintues or until golden.
Add the fish and seafood to the simmer soup, then turn down the heat and poach for 5-6 minutes or until cooked through.
Remove the bay leaves, then stir in the parsley and a squeeze of lemon. Check the seasoning.
Serve with the croutons, extra chopped parsley, cooked corn and plenty of black pepper.
Harissa Chicken
Ingredients 
1 small free range chicken
4 cloves garlic
500g new potatoes
200ml chicken stock
4 TBSP Harissa paste ( I use Belazu Rose Harissa paste)
100g baby tomatoes
100g green olives
Olive oil, Salt and pepper, Spring of rosemary
Method 
Preheat your oven to 180'c. Lightly oil a large baking pan, add salt and pepper to the base. Place chicken in the middle of the baking pan, salt and pepper the chicken. Massage the Harissa paste into the skin of the chicken, ensuring its well covered. Pace the garlic cloves, potato's, tomato, olives and sprig of rosemary to the surrounding area of the pan. Warm your chicken or vegetable stock on a medium heat, add it to the base of the pan. Cook as a one pot meal for 45mins to 1 hour dependant on size of your chicken. Juices will run clear, stock will have reduced and vegetables will have started to roast and caramelize.